Gongyi, September 12, 2018
1700 mm wide aluminum curtain wall base plate production line with HENGZHONG φ850x1850 mm casting mill commissioned at Henan Hengtong New Material Co. Ltd.
· Maximum width of end product can reach 1700 mm
· Maximum thickness of end product can reach 10 mm, nominal thickness 7mm
· Monthly capacity can reach 1000 MT
Project background
Henan Hengtong New Material Co. Ltd. is a manufacturer of aluminum water tank for vehicle and high quality aluminum curtain wall, the project of a new production base with a yearly output of 400 000 MT is located in the industry cluster district of Gongyi, which is the aluminum city in China, in 2016, the total amount of the aluminum product manufactured in Gongyi has reached 403 200 MT. The new production base covers an area of 340 000 ㎡, the total investment is 1 000 000 000 CNY(145 558 289 USD).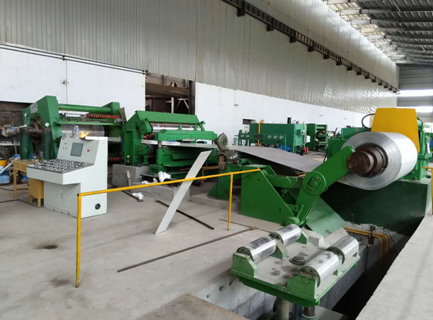 The project will be fulfilled by two steps:
1. The first step will cost half of the project budget, the aim will be focused on the construction of workshops including
Blank producing workshop
Rolling workshop
Finishing workshop
In this step, auxiliary devices like 110 000 KV transformer, air compressor, cooling water pump station, fuel station and environmental protection system will also be installed.
1. The second step will cause the other half of the budget, the aim will be focused on construction of workshops including:
Punching workshop
Sheet metal workshop
Roll coating workshop
Water tank workshop
Common facilities
Stock
Office
Current status
Until now all the construction work has been accomplished, the commissioning of the first cast rolling mill has succeeded.
Cast rolling mill
The cast rolling mill manufactured by Zhengzhou Hengzhong Heavy Machinery Manufacturing Co. Ltd. can produce aluminum base plate for aluminum curtain wall, which is the raw material for all the following production process. In aluminum curtain wall application, the flatness and homogeneity of the material surface is extremely important, as the customer want to expand the width of the product to 1700 mm, we need to develop wider model and at the same time guarantee product quality.